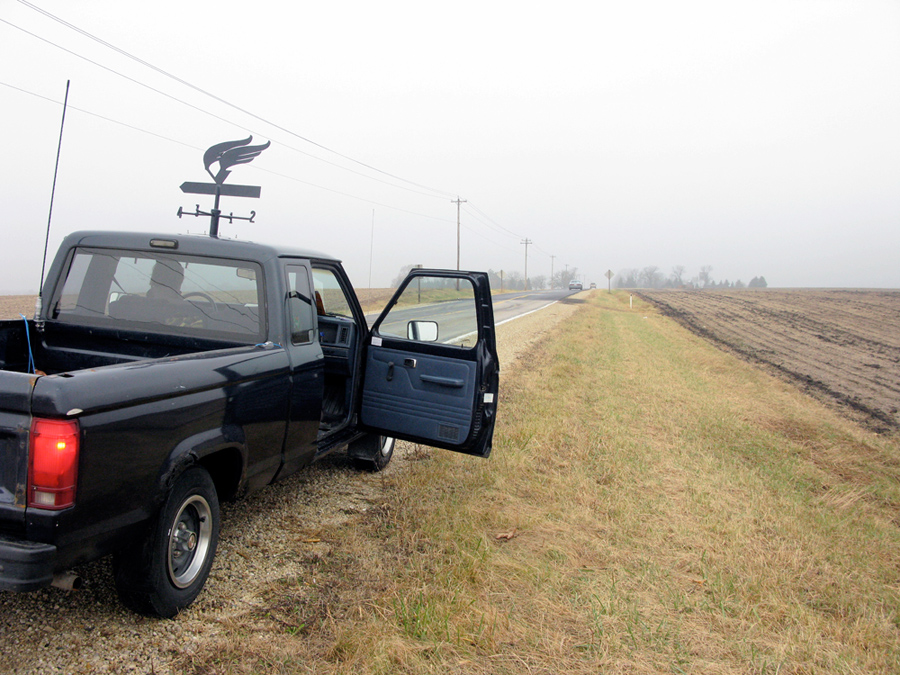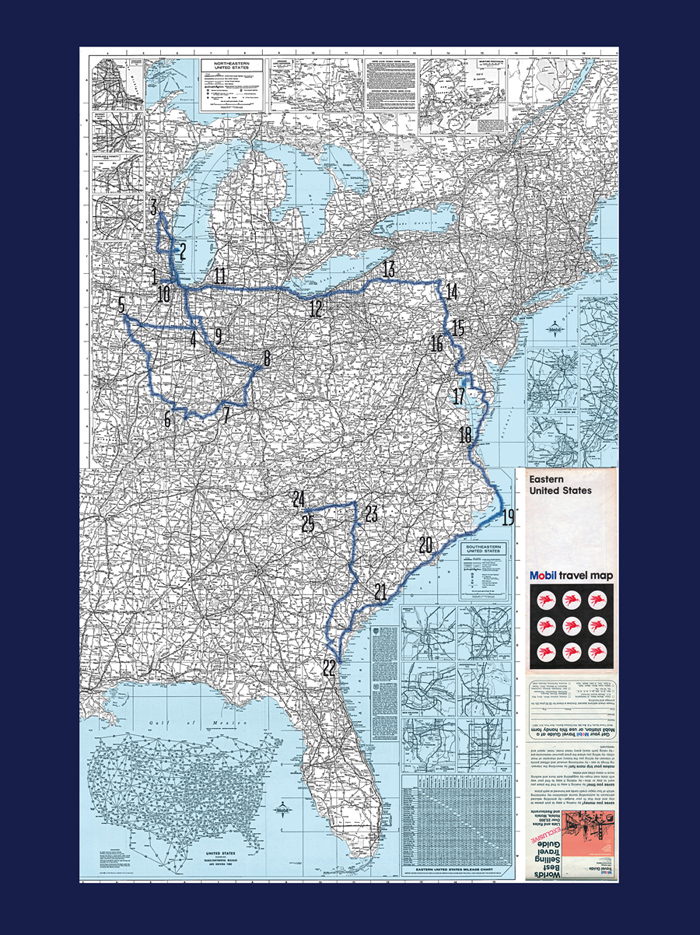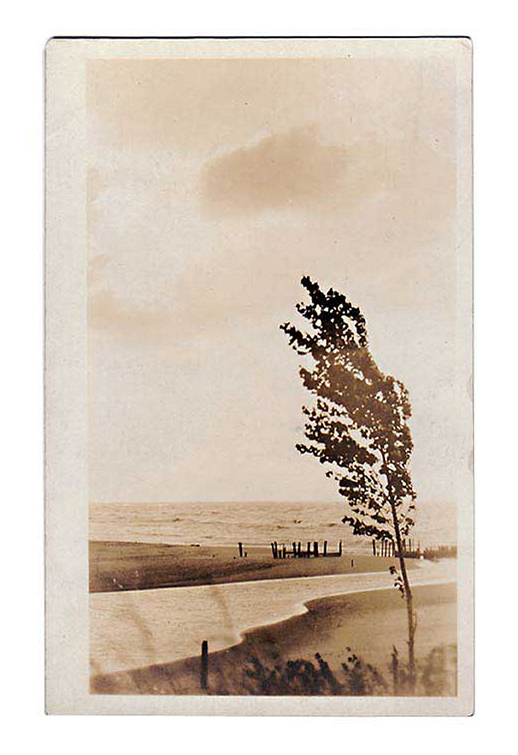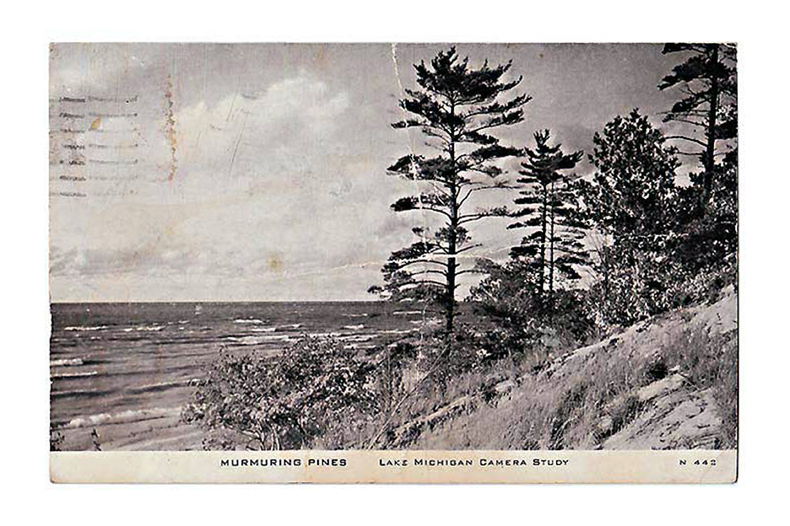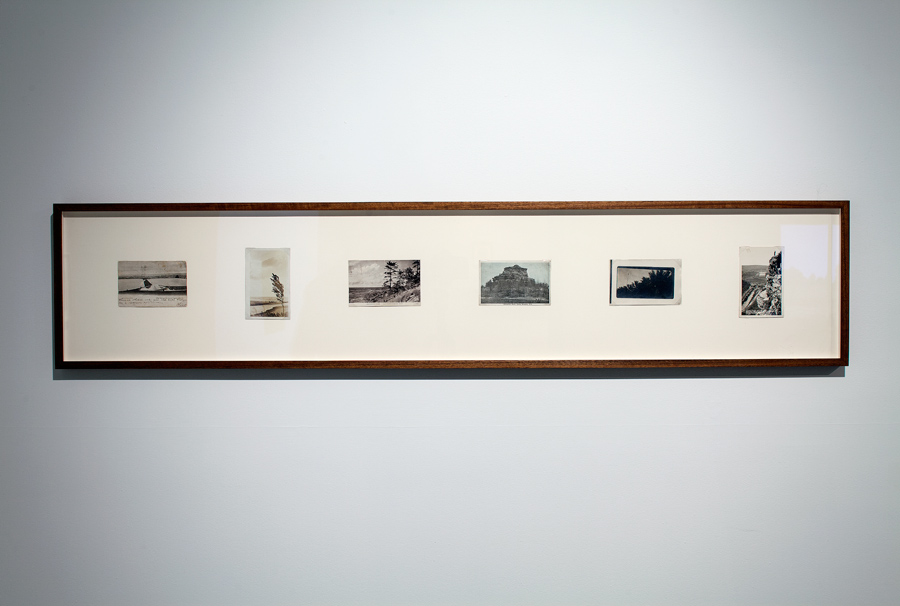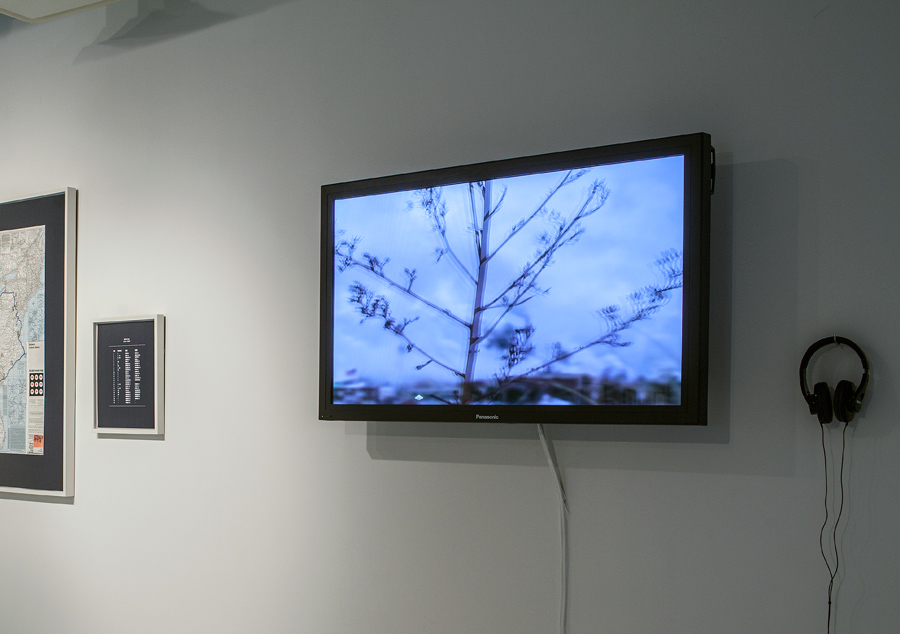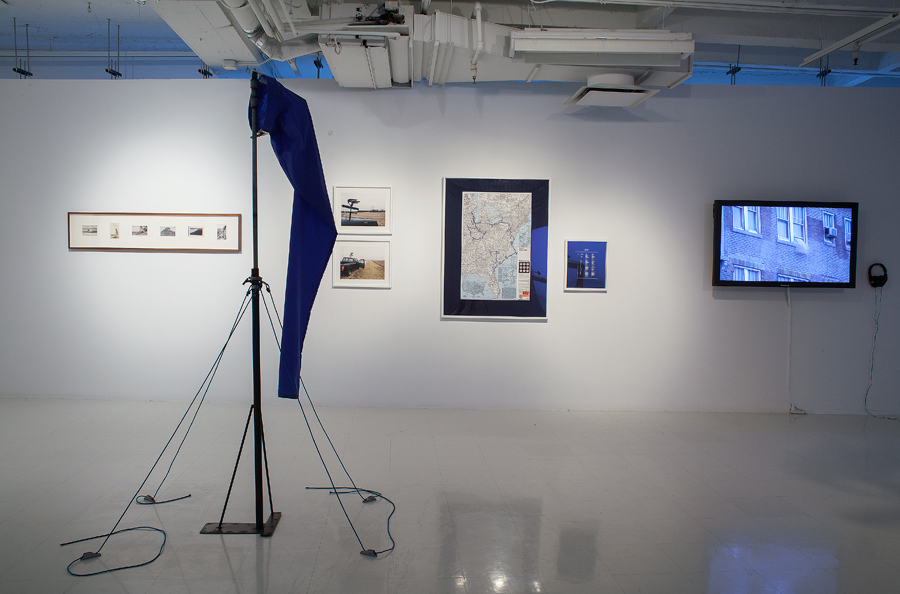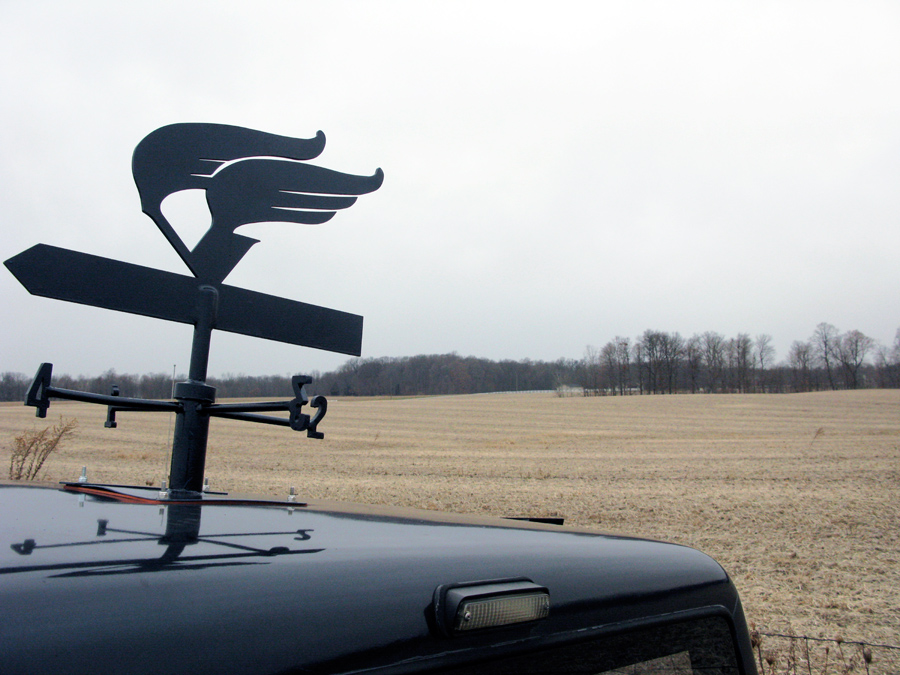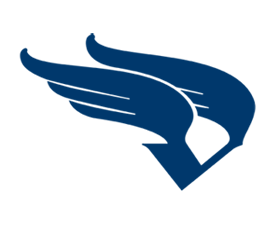 Ventury :
a transfrontier odyssey trailing American winds
A project by Patrick Beaulieu
with Daniel Canty, Alexis Pernet and Dauphin Vincent.
In November and December 2010, Patrick Beaulieu initiated a 25-day transfrontier odyssey trailing the winds of America. Interested by the influence of the wind on humankind, nature, urbanism and geography, he pursued the aerial currents on board the blue rider, an old Ford pick-up fitted with various accessories and tools for observing the winds — a weathervane, a windsock and a pinwheel. He was accompanied in turn by three co-pilots : the landscape architect Alexis Pernet, and the writers Daniel Canty and Dauphin Vincent. Together, these windfinders completed a kind of terrestrial navigation, attempting, against all odds, to establish a correspondence between the roads of the continent and the fluidity of aerial currents.
Ventury's starting point was Chicago — The Windy City. From there, the windfinders traced a daily path wholly dictated by the vagaries of the wind, choosing to abandon themselves to forces beyond their own in order to fully experiment their poetic potential. The phenomena observed along the road, while they bring us back to areas of scientific knowledge (meteorology, physics, geomatics) nevertheless contain an irreducible part of mystery. This transfrontier odyssey invites us to fathom, on an exploratory mode, the intuitive and metaphorical part of our understanding of the wind, this almost unearthly natural phenomenon. (Daniel Canty, venturyodyssey.patrickbeaulieu.ca).
«In an attempt to poetically define the wind, in Ventury, two main activities were repeatedly undertaken. Upon arrival in each small town, Beaulieu found the nearest book or antique shop and inquired with the clerk: "Do you have any postcards of the wind?" The sincere query – a playful action that inspired vivid response – led to an eclectic selection of poignant, nostalgic pictures; a collection aptly titled, air mail.
The second activity was less calculated but equally rigorous. In an esthetic that paralleled the assembled postcards, Patrick Beaulieu videotaped various unplanned instances of observable movement in the wind (the in a breath series). These included: Canada geese flying in V formation; fluttering curtains kept magically afloat while pushed out of the window of an apartment building; leaves dancing on the platform of a ferryboat. In each of these cases we are made aware of how perfect and transient, of how random and potentially chaotic (yet ultimately controlled) are these events in nature. The V will eventually dissolve; the curtain will eventually fall; the leaves will disperse and disappear.»
– Victoria Stanton, extract from Porous Borders, Fragile Structures and Chance Encounters: Performative Trajectories and the Importance of the Immaterial in the VVV Transfrontier Odyssey Trilogy, Inter art actuel no.118.
Since 2010, Ventury has been presented in the context of exhibitions and performances in U.S.A., France and Canada. Fragments of the project has been shown among others at the Green Lantern Gallery of Chicago, the Bryant Lake Bowl Theatre of Minneapolis (Salon Saloon – Auto Show by Works Progress), the Maison Vieille in France, the Sporobole art center in Sherbrooke (Jean-Pierre Aubé et Patrick Beaulieu – Géopolitique de l'infini curated by Véronique Leblanc), the Visual Art Gallery of Laval University in Quebec and the Art Mûr Gallery in Montreal (Still Moving/Moving Still curated by Anaïs Castro). Texts from Daniel Canty (Les États-Unis du Vent, La Peuplade, Saguenay, 2014) and Alexis Pernet (Les Chemins du vent, Criticat, Paris, 2013) give testimony of their experience on the road of the wind. Patrick Beaulieu and Daniel Canty are working on «VVV – the book»  that will gather, among others, the texts  from the windfinders of Ventury (Les Éditions du Passage, 2015).

Ventury is the second project of VVV: a trilogy of transfrontier odysseys by Patrick Beaulieu. The project have been preceded in 2007 by Monarch Vector: a transfrontier odyssey following the migratory path of the monarch butterflies and followed in 2012 by Vegas: a transfrontier odyssey on the road of chance.

The book «VVV – trois odyssées transfrontières» from Patrick Beaulieu et Daniel Canty (Éditions du Passage, 2015) gather images and textes about these performatives trajectories.

Ventury's footprint is poetic rather than carbonic thanks to: carboneboreal.uqac.ca
Website of the project
Press