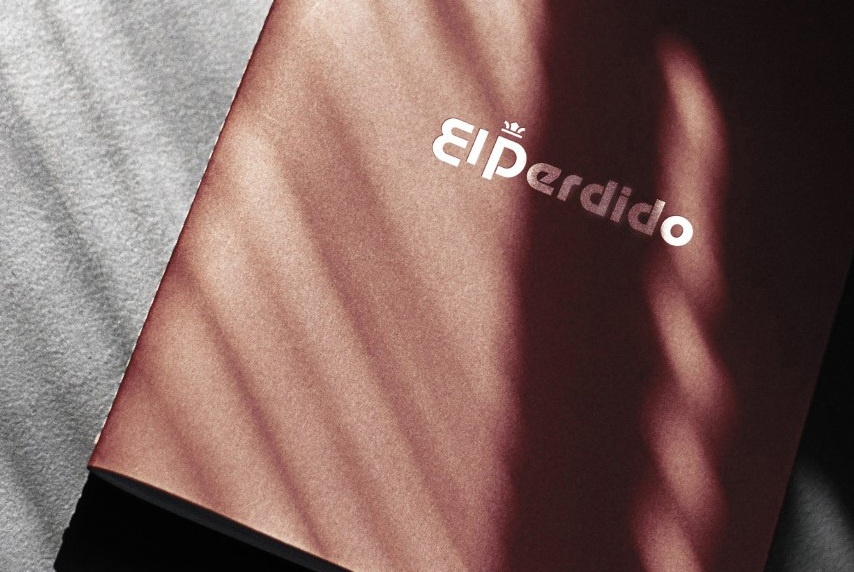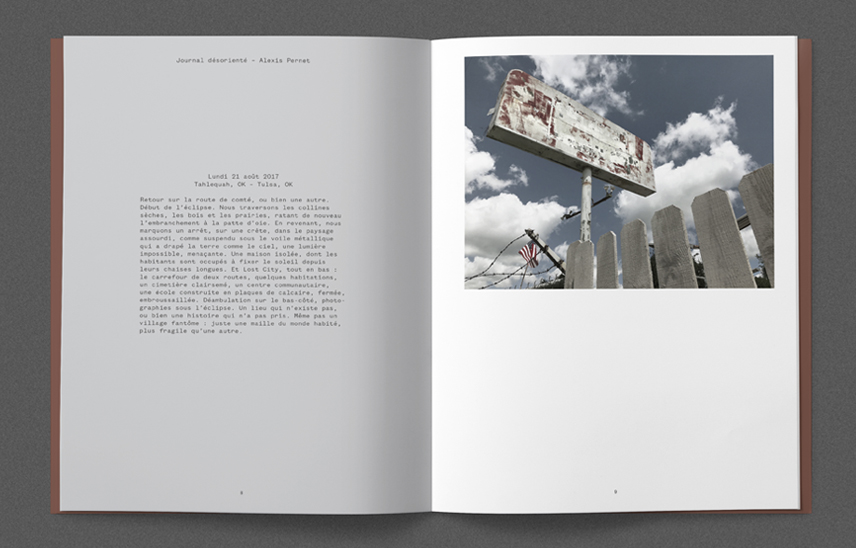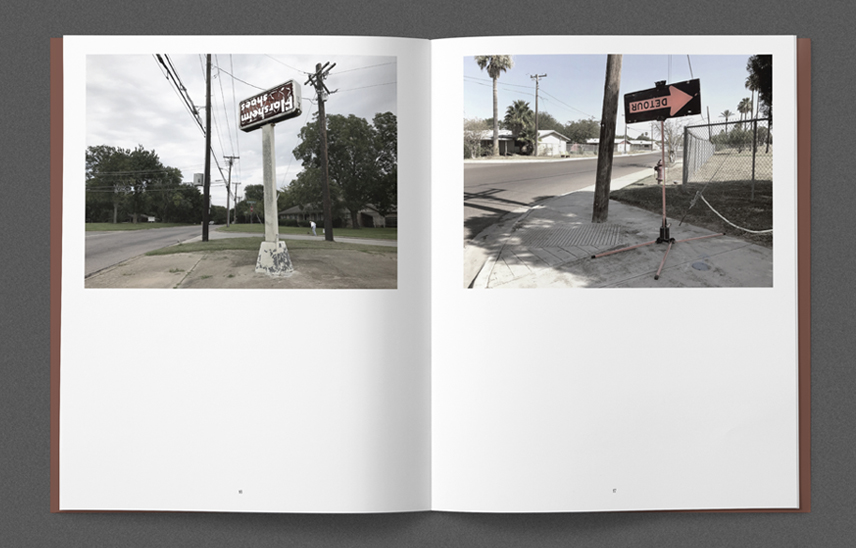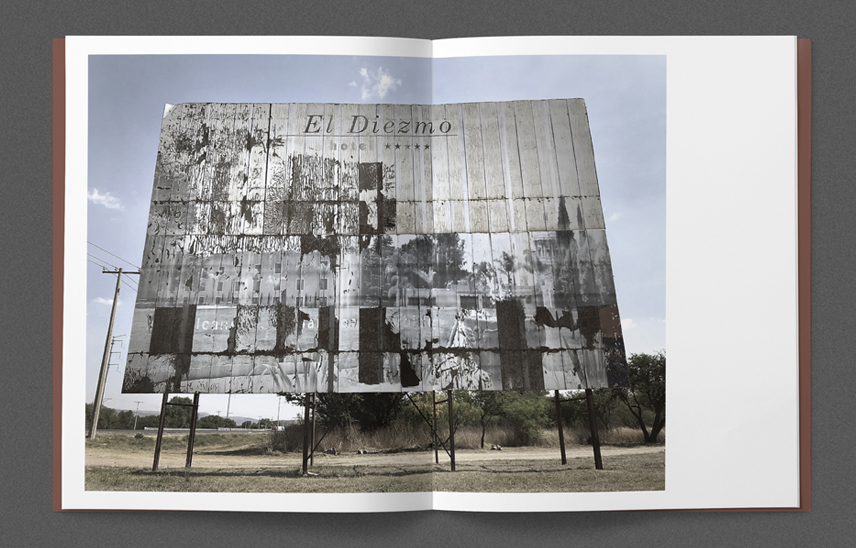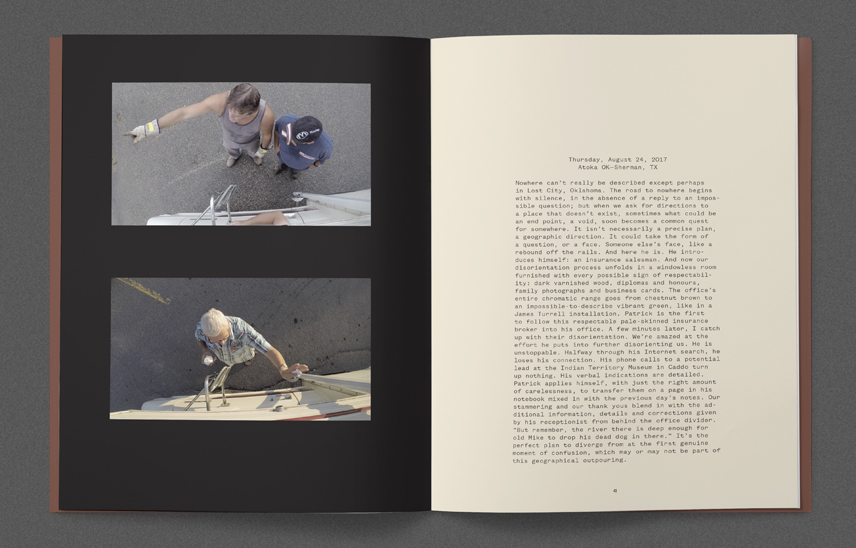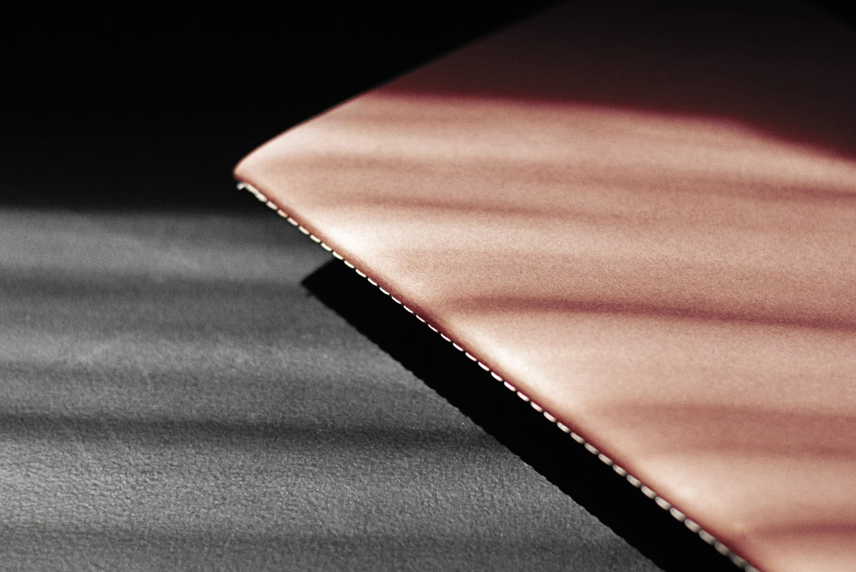 EL PERDIDO
[Les éditions Lacustre]
Photographs and videos:
Patrick Beaulieu.
Texts:
Alexis Pernet and Patrick Beaulieu.
Traduction :
Jo-Anne Balcaen et Daniel Canty.
Graphic Design:
Feed.
Éditions/Publishing:
Lacustre, Orford, Canada, 2019, 48 p.
In the summer of 2017 and into 2018, Patrick Beaulieu completed his performative excursion EL PERDIDO, a North American peregrination in search of non-existent locations. Accompanied by the geographer Alexis Pernet, the two set off in an old camper-van on a trajectory based entirely on the willingness of strangers to direct them to nowhere. Deliberately lost, they pursued their search for the Forgotten Road. This book brings together images of the many signs of disorientation that marked their route along the way, as well as journal entries describing the encounters and discoveries that contributed to a wayward journey guided by intuition, exchange, and uncertainty.
Starting point: Lost City,  Oklahoma
EXTRACT

« […]

Monday, August 21, 2017
Tahlequah, OK — Tulsa, OK

Back on the county highway, or maybe it's another road. The eclipse has begun. We drive through dry hills, woods and prairies, once again missing the fork near the junction. On our way back, we stop on a ridge in the muted landscape. It seems suspended under a metallic veil that drapes the earth and sky in an impossible, menacing light. We spot a lone house whose inhabitants are busy staring at the sun from their lawn chairs. And beyond, Lost City: a crossroads town with a few houses, a sparse cemetery, a community center, and a school built of limestone slabs that sits abandoned and overgrown with weeds. We walk on the side of the road and take some photographs under the eclipse. It's a non-existent place. Or maybe just a story that never took shape. Not even a ghost town. Just a stitch in an occupied land, more fragile than the rest.

[…]

Wednesday, August 23, 2017
Allen's Point, OK — Atoka, OK

We drive around the neighborhood. Its buildings are mostly occupied by Phillips Petroleum. Gas here is a "local product". I have to get used to that. We consider approaching the company's head office to suggest they produce a limited edition of Lost Gasoline, guaranteed to leave you stranded in the weirdest corners of the world. »
– Alexis Pernet, Disoriented Diary.
ISBN 978-2-9818448-0-4
PRICE 30.00$  directly at Art Mur Galery
or 35.00$ shipped in Canada
order at info@patrickbeaulieu.ca